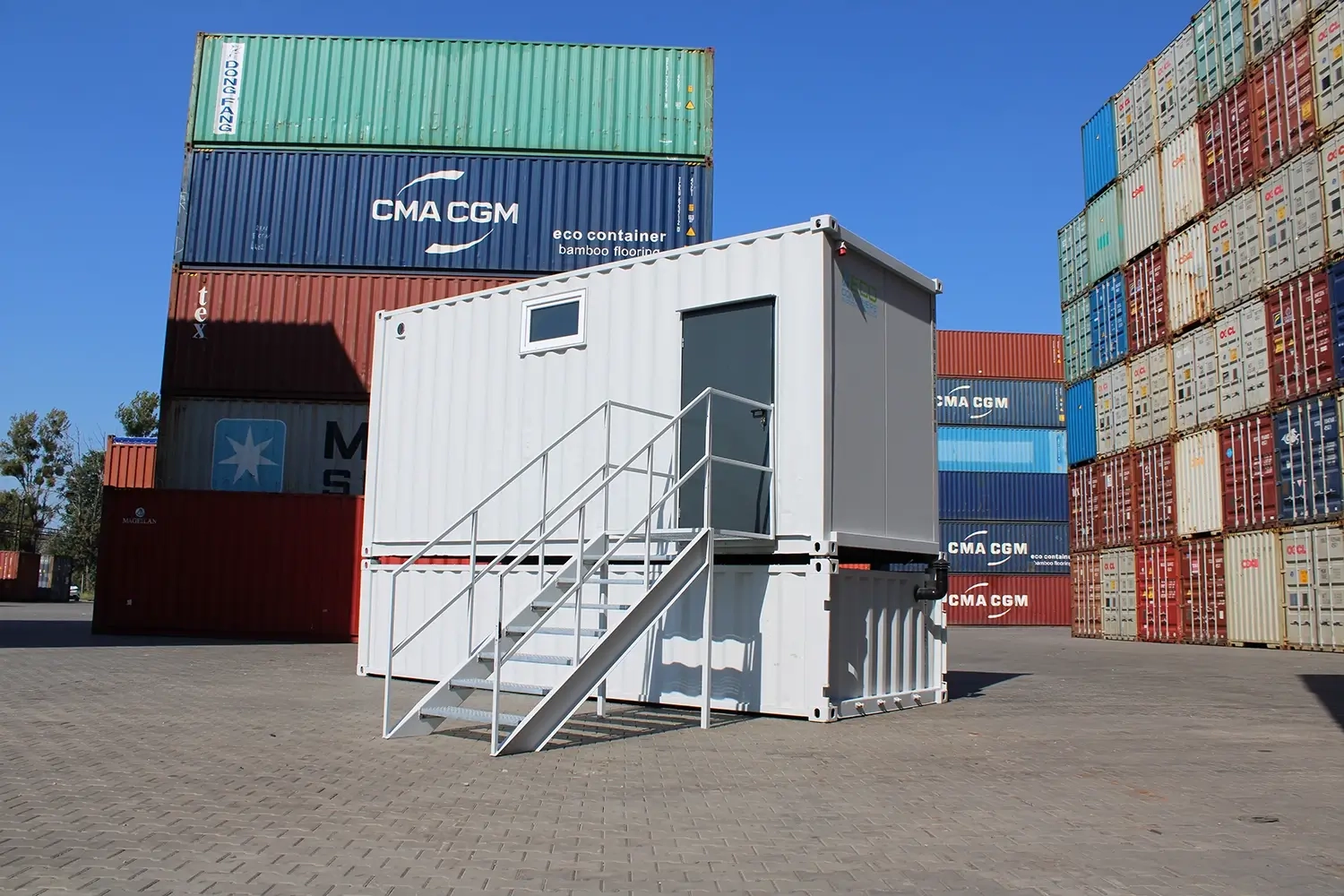 Sanitary containers are a group of containers with social use. They are an indispensable element on every construction site and not only. They are gaining more and more recognition in many other industries, where access to sanitary facilities is difficult or impossible. They also have their uses at any outdoor events and parties, or as additional equipment for small offices. They are also cost-effective in relation to renting entire premises.
Sanitary containers have full sanitary facilities, including: sinks, toilets, shower stalls, sink troughs or urinals. Water for use is warm thanks to water heaters. They can have many sizes and also a variety of equipment depending on the user's needs. The advantage of sanitary containers is also mobility, so sanitary units can be transported to any place. The containers can also be stacked up to 3 stories. They are also easy to connect in unimproved areas.
At Eco Containers, we offer both sanitary container sales and sanitary container rentals in a variety of sizes. Typically, these are 10' and 20' containers with different interior layouts.
Types of sanitary containers:
Standard sanitary containers
A standard sanitary container is a container that performs the function of sanitation. It is equipped with four lavatories, six washbasins or two three-station washbasin troughs. The equipment of the container is able to provide full sanitary conditions for employees staying at the workplace for a longer period of time. The container can be stacked up to 3 stories.
Standard sanitary container with an internal corridor
The sanitary container with an inner corridor is a multi-stall washroom with four washbasin troughs along with 12 taps. Domestic water is heated by means of a capacity heater. The container can be used independently or as a washroom module in larger modular buildings. It has the possibility of stacking up to three floors.
Social and office container with toilet
This is a social and office container. In addition to usable space that can be used, for example, as an office, it has a separate bathroom with a sink and toilet bowl. Domestic hot water is available through the installation of a water heater, so the container fully functions as an independent social or office facility. The container can be stacked up to 3 stories.
Social and office container with toilet and shower.
This is a social and sanitary container. It has a usable space that can be used as an office, as well as a separate bathroom with a sink, toilet and shower. Domestic hot water is available through an electric boiler. The container is designed to be stacked up to three stories.
Multipurpose sanitary container
This container is fully equipped with the necessary sanitary facilities. This includes: washbasins, toilets, showers, washbasin troughs, urinals, mirrors. An electric boiler provides domestic hot water in the container. As a result, it can serve as a full-fledged sanitary facility for a crew of employees.
Advantages of sanitary containers:
Mobility of the sanitary facility due to the possibility of transporting the container
Access to sanitary facilities in places difficult to access
Equipped with windows, doors, electrical installation and LED lamps
Possibility of changing the arrangement of equipment, as well as expanding the offer
We invite you to purchase containers in our branches in Poland in: Tri-City, Szczecin, Poznań, Wrocław, Katowice, Kraków, Lublin and Warsaw
What is the size of a sanitary container?

Sanitary containers come in 10' (3-meter) and 20' (6-meter) versions, but they can be combined to create larger areas.
How much does a sanitary container weigh?

A sanitary container can weigh up to 3 tons because it contains sanitary equipment, unlike traditional containers.
What equipment does a sanitary container contain?

Sanitary containers can be equipped with full sanitary facilities: toilets, sinks, urinals, showers. They also have heating and electrical installations.
Does the sanitary container have hot water?

The sanitary container has an electric water heater, which provides hot water in the container.
How to discharge sewage from a sanitary container?

Discharging waste from a sanitary container is done using additional tanks or containers, which are then periodically removed using a septic truck.
Can sanitary containers be connected together?

Sanitary containers can be connected together according to an individual project, thus creating surfaces tailored to one's needs.